The message is clear, Durban is ready to host you! As the country relaxed travel restrictions and we ushered in tourism month, the City of Durban is well prepared to welcome an influx of domestic tourists. In September, Durban lit up the skies in a bid to reignite Durban through our Reignite Durban activation.
We entered tourism month with boosted confidence as the 27th annual World Travel Awards gave the City of eThekwini's business travel and tourism offering a big nod and vote of confidence following the announcement of the nomination of nine top business travel and tourism establishments for some of the awards most sought after categories.
The City's four direct nominations were Africa's Leading Business Travel Destination 2020, Africa's Leading City Destination 2020, Africa's Leading Festival and Event Destination 2020 as well as Africa's Leading Meetings and Conferences Destination 2020.
This was a welcome and major confidence boost for the City which will in turn encourage our economic recovery plans after the crippling impact that the covid19 pandemic has had on the tourism industry
Tourism month will always be a crucial period from a domestic angle and it serves as an opportunity to promote domestic tourism.
During the month of September the City also advocated for the public to know their city and its heritage, much of which was embedded in the tourism sector and infrastructure of the city. This campaign was driven on social media platforms as well as with media partners. The campaign took South Africa on a digital historical journey of the City as people rediscovered Durban through a social media and radio campaign that will profiled the City's milestones from its birth to present day.
It was a proud moment when we opened our newly renovated North Beach Tourism offices, a facility that will provide much needed informational about our fabulous products and establishments. Durban is indeed ready for the Summer! With that being said, let us continue to observe safety protocols-observe social distance, wear our masks, sanitize and wash our hands regularly. The fight is not yet over. Let us enjoy our time in Durban responsibly.
On the evening of September 23, the city lit up some of its iconic buildings as part of this initiative. The Moses Mabhida stadium, uShaka Marine World, Elangeni Hotel and Umhlanga Pier, Durban City Hall, Sugar Ray Xulu stadium, Inkosi Albert Luthuli International Convention Centre, Umhlanga Pier among others, were lit up in a display of colour to celebrate the ushering in of the summer season. Durban's attractions and establishments have all implemented visitors.
The lighting up of the buildings was an initiative to set the tone and send messages to locals that the tourism sector is ready to host health and safety protocols and are ready to host
again for business and leisure following a difficult lockdown period.
The Re-ignite Durban programme officially set the tone for the industry's road to recovery and it was one of the City's efforts to boost the sector by promoting it as an integral part of Ethekwini's economic recovery plan. The more tourists that descend on the city means more business, which will result in an economic boost and job opportunities.
During Tourism Month, Durban ran a My City, My Heritage Campaign. A campaign focused on celebrating the rich cultural history that the City enjoys and the legends that made an imprint on the democracy and freedoms that we now enjoy. The digital and print campaign hailed the likes of Sugar Ray Xulu, Moses Mabhida, Inkosi Albert Luthuli, The Mxenges, Mahatma Gandhi and many more Durban icons whose contributions are reflected in the architecture and infrastructure of eThekwini..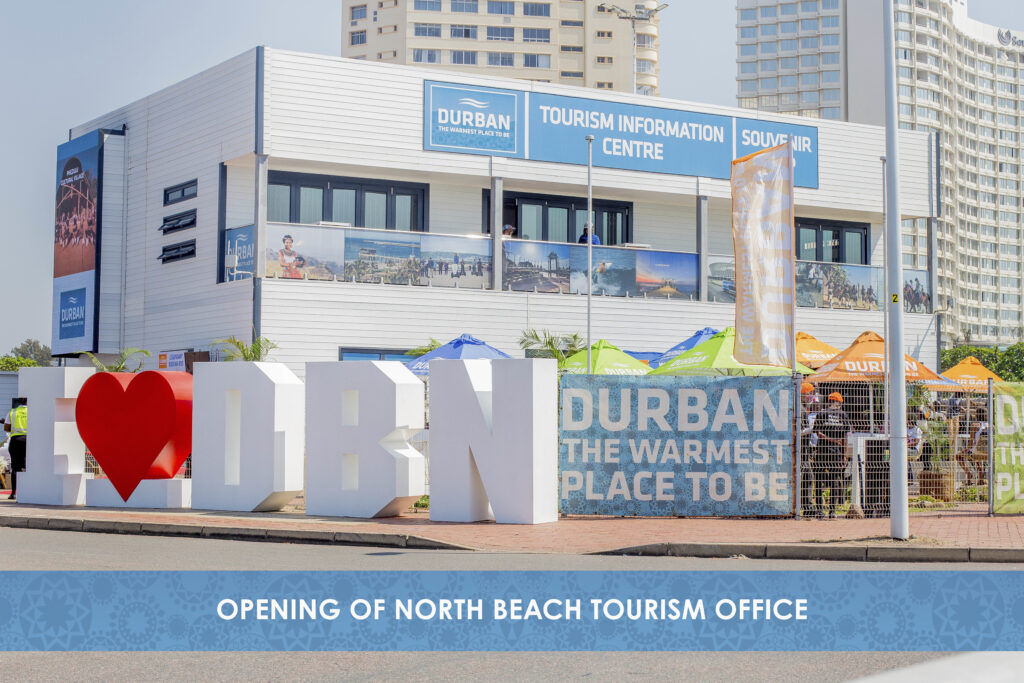 With the reopening of the tourism sector the City of Durban looks forward to a new normal and expects to see a high volume of visitors flocking to the beach side of the City as part of the fusion of experiences offered by the City. The North Beach node is a high traffic visitor location that is also a tourism route within itself. The location of North Beach Tourism Office will provide convenience to visitors and residents of the eThekwini. It is expected that these offices will provide a much-needed service to the visitors of the eThekwini.
Through research-based evidence, Durban Tourism has found ways of adapting the services offered by its Tourism Offices such that they remain relevant to the visitor and add meaningful value to the visitor experience and help support the industry in its endeavor to recover from COVID-19 pandemic. The department has ensured that its visitor centre provides and exceptional service and experience. The North Beach Tourism Office is offices are also complemented by a variety attractions and service centres in the vicinity. All measures have been taken to ensure that the North Beach Tourism Office meets the Covid-19 safety protocols will continue to encourage the citizens of Durban to wear their masks, frequently wash and sanitize hands frequently and maintain social distancing. This has been our message to the public and establishment owners during this period and we will continue with this message as it becomes our new normal.
The North Beach Office will provide personalized service, brochures, maps, toilets and WIFI. The office will also provide Ricksha Bus sightseeing tours which is an introductory and easily accessible means of seeing many of Durban's major attractions in a short space of time. This gives visitors a reason to be there and something to rave about, both on and offline. We have also installed, along the beachfront, social media photo frames where the public will be able to take pictures that will capture their memorable stay in our city and of course upload them on social media so that we continue trending as the warmest place to be in terms of our hospitality and hosting capabilities.
Within the office, there is a newly established Durban Souvenir Shop trading locally produced products supplied by around 11 small, medium and micro enterprises that promote the City's heritage.
The frames are situated along the promenade – situated near the skate park and the other situated near uShaka Sea World – and allow locals and visitors to photograph themselves with picturesque views of Durban's Golden Mile as a backdrop.
After a seven months hiatus of international commercial flights, King Shaka International Airport has welcomed back Qatar Airways and Emirate. Emirates is the world's largest airline and has been flying the Dubai-Durban route for 11 years. It also has routes to Joburg and Cape Town.
This comes after Government announcement of regulations allowing for resumption of international flights and International guests under specific conditions.
Speaking after the successful processing of the Airline flight General Manager of King Shaka International Airport, Terence Delomoney said "This flight represented a watershed moment as we continue to ease the lockdown restrictions and open up our country and economy, whilst still maintaining strict health and safety protocols. It is testament to the Aviation Industry, all our staff and stakeholders who continue to work hard behind the scenes to enable us to achieve moments like this. We are hopeful that this marks the start of many international flights to be processed through King Shaka International Airport."
South African Department of Home Affairs released a list of high-risk countries, whose leisure travelling citizens will not be allowed entry into the country. Other categories of people from these countries, are allowed under special conditions, as it appears in the regulations and directions.
"We have been greatly encouraged by how local domestic passengers have taken to the skies. We want to emphasise that continuing to maintain a safe airport environment is our key priority. This is largely dependent on the attitude and behaviour of our passengers, and if we could continue the success we have had on the Domestic front into the International part of the operation, we will continue to build confidence and trust amongst our travelling public; and hopefully convert more of our non-travelling public into travellers."
The arrival of Qatar Airways marks the new chapter in the history of aviation industry in KwaZulu-Natal since the outbreak of COVID-19. I wish to reiterate our position that as we reconstruct and transform our economy, the aviation sector remains critical.
Historically, the KwaZulu-Natal province attracts visitors throughout the year for leisure and business, the resumption of international flights will help revitalise the tourism sector and the economy. Local hotels, tourism destinations and all public spaces are fully geared to applying the rules and protocols that will keep all travellers safe.
All international passengers are required to do a Covid-19 test in their country of origin and present the negative test results document on arrival in South Africa. The test result must have been received no more than 72 hours before boarding the flight to South Africa.
Should the traveller display any COVID-19–related symptoms or been in contact with an infected person(s), they will be expected to take a mandatory COVID-19 test. This test will be at the traveller's cost. If the COVID-19 test comes back positive, the traveller will be subjected to a 10-day quarantine at a designated site. The accommodation at a quarantine site will be at the traveller's cost.
Durban Tourism embarked on a campaign to kickstart restaurant activities. Durban Tourism in partnership with East Coast Radio kicked off the first leg of Spring activations in different restaurant precincts in different regions of the City – Central, North, South and West. With the purpose being to encourage Durban residents to visit restaurants while compiling with COVID-19 regulations as gazetted by Government.
Nothing says Durban quite like the beach and of course the food! Durban is known to provide a mix of culinary fusion with its unique dishes such as the bunny chow and authentic shisa nyama experiences. With culinary tourism on the rise, people want a gastronomical experience. Food and hospitality is the second contributor to the tourism economy and job creation in South African and the 2nd most activity that visitors participate when in Durban. The niche market is growing, nationally and locally, visitors are not disappointed with the array and diverse restaurants. There is an increase in tour operators depending on this niche market for their business. From the literature review, Cape Town and Durban have immense products to create culinary routes.
With the ease of restrictions Durban's restaurant hubs have been buzzing with people eager to experience the outdoors once again. Our cultural influences have given us some unique tasting experiences that are just to important to miss. There's no shortage of restaurants in Durban for a wide variety of global cuisine. Simple, to homely to high end gourmet or street food – You name it, we've got it.
Popular restaurant areas include the Florida Road entertainment strip, Chartwell Drive in Umhlanga, Helen Joseph Road in Glenwood, Mackeurtan Avenue in Durban North and along the Golden Mile at the Beachfront.
The historical portion of the Phoenix Settlement situated on the remainder portions of the remainder of portion 498 of the Farm Piezang Revier FT; Inanda, Durban, have been declared national heritage site in terms of section 27 of the National Heritage Resources Act No. 25 of 1999. The sites include namely the home of Mohandas (Mahatma) Gandhi (Sarvodaya House), the Printing Press Building, Museum and the Kastur Bhuvan (Manilal Gandhi House), as a National Heritage Site. SAHRA identified the site as having qualities so exceptional that it is of special national significance and warrants declaration as a National Heritage Site.
The historical portion of the Phoenix Settlement is closely associated with Mahatma Gandhi's last decade in South Africa, his personal transformation (including race), his formulation of Satyagraha and his connection and understanding of liberation struggles in South Africa.
It is recognised that Gandhi was a product of the era in which he was raised, that his political concerns in South Africa focused primarily on the plight of British Indians, that he volunteered to serve the ambulance corps for the British as a demonstration of loyalty to the empire in two important anti-colonial events in South Africa and that, in the early years of his stay in South Africa, he used disparaging British colonial language in respect of Africans. However, it is also recognised that during the last decade of his stay in South Africa, Gandhi went through a personal transformation in his thinking regarding the colonial orientation of his youth. He posed many questions to himself as he experienced increased victimization by South African authorities. He tended to the wounded Zulu while he served in the ambulance corps and became interested in learning more about the racial discrimination endured by Africans and other people of colour. His early remarks about Africans were replaced by comments of admiration, support and a clearly expressed vision of a future South Africa that would be free of race. Gandhi's period in South Africa and his work within the South African Indian Congress, their alliance with South African Native National Congress (ANC), and the African People's Organization, was a political, and philosophical learning curve.
The Phoenix Settlement, devoted to Gandhi's philosophy of Sarvodaya (The Welfare of All) and the principles of Satyagraha, has played an important spiritual and political role throughout its long history by promoting social justice, peace, and equality. Gandhi established the settlement as an experimental communal farm, one guided by respect for all people, and as a challenge to colonial norms of segregation, languages and religions. He used a printing press and newspaper as a means to mobilize resistance and promote ethical and moral human development. He believed that communities like Phoenix advocating communal living would form a sound basis for decolonisation and the struggle against social injustice. These principles continue to be honoured through the work that the Phoenix Settlement does both within the surrounding community and abroad. Gandhi's own transformation, search for truth and enlightenment, principles of fairness, justice, non-violence and peace towards all people, continues to be a beacon of inspiration today and into the future.
Source: South African Heritage Resource Agency
The Chocolate Garden Canelands (Verulam)
Just a 20 minute drive from Durban, this quaint spot located in Canelands, Verulam is the perfect little getaway from the bustling city life. Perfect for kids and families The Chocolate Garden serves up delicious breakfasts, light lunch meals and drinks in their garden setting.
Kids can be entertained by the small animal farm and play area located within the garden.

About the Chocolate Garden
Did you know that many plants have chocolate versions?
A Chocolate Garden is a garden inspired by chocolate including chocolate colored plants, chocolate scented flowers, chocolate mint, chocolate sunflowers and vines. You will find these and more at Africa's first Chocolate Garden at the de Charmoy Estate in Kwazulu Natal.
​
Planted in early August 2017, all the plants selected were chosen with great consideration given to non-invasive plants, balancing water needs, chocolateness of course and the climate in KZN. Lauren (de Charmoy) Machanick (founder and owner) enlisted the help of Garden Design expert and Principal of the School of Garden Design (Lindsay Gray)
to bring her vision and dream to life.

The Chocolate Garden is fully compliant with all Covid-19 protocol.
Join Durban Tourism on our Intra Provincial Rediscover Durban Summer Tour! We will be bringing you a taste of what to expect in Durban this summer. It will be sizzling! Rediscover Durban and make memories this summer.


MPUMALANGA ACTIVATION


On-Route Petrol Stations Pop Up Activations and Parade Nelspruit 26 November 2020
Destination brand activation and promotion of summer season packages
Travellers engagements, prize and collateral giveaways
Ilanga Mall Activation: Nelspruit – 27 November 2020
Durban stand exhibition and activation set-up, and tourism information dissemination
Promotion of Summer Season Packages and driving vigorous targeted consumer engagements
Trade & Media Networking Nelspruit – 27 November 2020
Destination Brand activation and awareness
Hosting of outside broadcast and media engagements


LIMPOPO ACTIVATION


Mall of the North Activation : Polokwane – 28 November 2020
Durban stand exhibition and activation set-up, and tourism information dissemination
Promotion of Summer Season Packages and driving vigorous targeted consumer engagements
On-Route Petrol Stations Pop Up Activations and Parade :Polokwane – 28 November 2020
Destination brand activation and promotion of summer season packages
Travellers engagements, prize and collateral giveaways
Trade & Media Networking : Polokwane – 29 November 2020
Trade and Stakeholders engagement, and awareness
Hosting of outside broadcast and media engagements