GREEN CORRIDORS – Go outside with your family this holiday in Durban!
Green Corridors, the NPO that cares for the glorious green spaces around Durban, offers some exceptional picnic sites and tourism experiences, all easily accessible for a socially distanced outdoor gathering with a host of activities during the Festive Season.
Whether it is self-drive or fully guided on the Green Corridors Shuttle Bus, these are wide-open spaces to relax, play, adventure and have loads of fun – they're ideal for the whole family, and only a short distance from Durban's CBD.
These wonderful sites are not only perfect for day visits, but camping, too, is available. There is also the unique Green Corridors' pop-up camping option that is stress free…and includes everything you need for a "glamping weekend" tents, stretcher, camp shower, catering tent and other equipment (with catering or self catering options).
eNanda Adventure Park on the beautiful Inanda Dam has the prettiest picnic site and an adrenaline-inducing pump bike track. The site offers guided mountain biking, birding excursions, hiking trails and canoeing.  A lovely shaded lawn overlooks the dam where you can launch canoes to explore the waterways.
eNanda Adventures offers camping right on the water's edge, as well as cabins. Boat launching permits can be also issued on behalf of Msinsi Holdings (which manages the dam), ideal for those wishing to launch here.
Mnini Dam, south of Durban in the quiet, picturesque uMgababa area offers two superb sites for picnics, canoeing, fishing (large-mouth bass, tilapia) and some spectacular birding, hiking and MTB trails.
The two tourism sites are Thulas' Adventures, which also hosts pop- up camps, with or without catering), right on the water's edge, and you enjoy guided nature and birding hikes, as well as cycle tours. The Mnini Dam Tourist Resort is tailormade for picnics, boat launching, fishing, birding, and hiking, with campsites and en-suite rooms available for hire as well as a well stocked bar and restaurant.
Mqeku Picnic Site in the exquisite Valley of 1000 Hills has a unique 'bum-slide' on its river, a sparkling clean tributary into the Umgeni. This crazy, fun slide ends in a serenely calm pool, where you can simply float on a tube. There are excellent walking trails here, and the local community will welcome you warmly, and take care of your every need. Braai facilities and camping are available.
Isithumba in the Valley of 1000 Hills is fully kitted out with accommodation, hiking, MTB and cultural tours. Local guides with unparalleled knowledge and story-telling skills will bring to life the culture, rituals and customs of the Zulu people as you tour this quintessential rural Zulu village.
Lower Molweni  is a short drive into the Valley of 1000 Hills from Hillcrest and is a hikers, birders and nature-lovers paradise.  there is a network of community-developed nature trails that lead hikers through the spectacular rugged cliffs and forests of the area, just on the outskirts of the Krantzkloof Nature Reserve. This reserve is a biodiversity treasure trove including 50 mammals, 253 bird, 35 reptiles, 150 butterflies, 273 tree and over 1500 plant species. Visit the Philangethemba Impact site with K&X Café and Ibongezi Crafters.
SHUTTLES OFFERED TO VARIOUS SITES
Green Corridors sites and tourism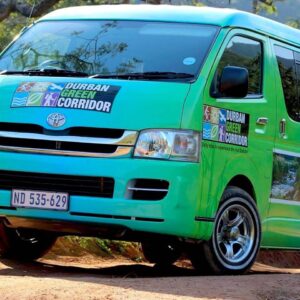 experiences are so easily accessible. The ultimate convenience is to hop on a  Green Corridors Shuttle Bus, which leaves from  Durban's GreenHub on the Umgeni River (near Blue Lagoon) and takes guests on the following excursions:
Wild Enanda/Enanda Dam trip. It includes uMzinyathi Falls, the sacred Rastafarian Caves, a trip with Canoeing eNanda Adventures, and eNanda Mountain (lunch available at eNanda at your own expense).
Mqeku Tubing and Bum Slide, where you'll visit the Valley of a 1000 Hills, enjoy the amazing views en route…then just ride the bum slide, take a tube ride or chill in the shady picnic site (bring your own picnic lunch). Mqeku Picnic site is exquisite.
Durban's Waterfalls (bring your own picnic lunch). You'll travel from Paradise Valley Falls to Kloof Falls to uMzinyathi Falls – perfect for keen photographers, nature lovers and water babies.
Mnini Canoe and Hike Trip, ideal for birdwatchers and peace seekers – lunch available at eNanda at your own expense. This is a leisurely day, drifting along the Mnini Dam shores, or hiking through the deep river gorges.
Green Corridors' GreenHub is centrally located on the banks of the uMngeni River, known locally as Blue Lagoon, offering a walk-in centre for information, eco-education and tour bookings, with bicycle and canoe hire available.
The Shuttle Bus transport, guides and any entrance fees are included in the R400 per person – minimum of four persons for the tour to run.