Light in The Gardens after a Dark Year…
Trail of Lights is Back at Durban's Historic Botanic Gardens.
"We have never been so excited to start work on any event," enthuses Martin Clement, Curator of Durban's 171-year-old Botanic Gardens.  "It was touch and go as to whether the event would be able to take place, but we are thrilled to have received the go-ahead, clearing the 2020 Durban Botanic Gardens Trail of Lights for take-off.  This has been a challenging year in every way and this year's event offers a celebratory moment for us all."
"The Trail of Lights is arguably Durban's most popular festive season event and now in its fourth year, is firmly entrenched on the City's festive season calendar," says Event Organiser, Alene Naidoo.  "We are grateful that our media partners East Coast Radio and Independent on Saturday have joined us again to bring Durban's favourite festive event to as many people as possible."
                                                                                                                                                   "With the Gardens festooned with millions of lights, 2020 will see the return of some fan favourites, along with new lighting displays and activations, Live@theTrail pop-up entertainment, a bigger festive market, two food gardens, Santa's Grotto and the opportunity to give back to a host of worthwhile charities in the charity-driven Santa's Workshop.  This year's Trail of Lights couldn't be more anticipated after a year fraught with the stresses of coping with the Covid-19 pandemic."
The Trail of Lights will open on 11 December and run until 30 December.   To meet protocol requirements and ensure the safety of patrons, key operational changes have been made to this year's event.  Most significantly, the introduction of three entry times at 18:00, 19:00 and 20:00 respectively.  This will allow for social distancing as families can navigate their way around the trail before the next group arrives. The other big change is that there will be no ticket sales at the door.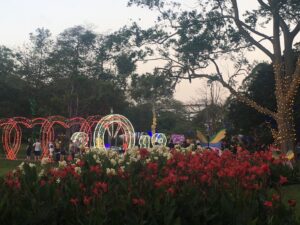 The Gardens
Preparation work at the Durban Botanic Gardens usually begins well in advance, but this year plans have been hampered because of the national lockdown.  In fact, this is the first time ever in the history of the Gardens that it has been closed to the public.
Following many months without the regular care and tending the Gardens is used to, the planting programme and maintenance priorities have been re-organised, to ensure that the Gardens are looking their absolute best in time for the opening," continues Clement.  "This includes the Sunken Garden and Gazebo."
In addition, a new drainage system has been installed in front of the Orchid House, which will keep the lower grounds (where the water table is highest) drier than previous years.  The Orchid House itself is being re-furbished to show off the Special Orchid Collection which has been in the nursery over the lockdown period.
"The theme for this year is 'Add A Little Light,'" explains Koren Gnirck, Durban Botanic Gardens Trust's Operations Manager,  "because we figured that we all needed a little light, at the end of what has been a strange and difficult year!  This event is the Gardens' biggest fundraiser, and we have worked hard over the years, in collaboration with Alene, to establish a brand and reputation that showcases Africa's oldest surviving botanic garden, brings festive season cheer to those that attend and at which family traditions are formed and memories made.  We need this light to look forward to at the end of 2020."
"The Trail of Lights has proved to be an iconic attraction for our city, not only for tourism but in helping to promote a greater sense of community and spirit of giving back," adds Naidoo. "A percentage of the proceeds of the event go to the Durban Botanic Gardens Trust, to continue the work of developing and maintaining this important city asset as a garden of excellence."
Charities
The community-directed ethos of the Trail of Lights is a vital part of what makes it so special, with the strong charity element, a hallmark of the event's community focus. After a year that has seen SA's economy take a severe knock, the funds made from the Santa's Workshop and other charity-driven activations this year, will be most welcome for the benefitting charities, including TAFTA, Feeding the Furballs, KZN Cerebral Palsy Association and SAAMBR, amongst others.  Some charities will engage directly with the public through onsite activations while others will benefit from funds raised through vendors. This year Reach for a Dream has partnered with the Trail of Lights to host 'a dream a week.'
Lighting
Even if you have attended the event each year, Nevon Singh from Magic Lighting promises 'a few surprises' in 2020. Themed areas will include a 12metre walk-through festive tree, a Christmas Village, a new look Santa's Grotto, Tunnel of Light and so much more!
Festive Market, Food & Entertainment
This year, in order to spread things out for the safety of visitors, we have two Food Gardens showcasing a wide variety of food types from 30 vendors.  The incredibly popular, expanded Festive Market, offers visitors the chance to do some last-minute gift shopping in a relaxed, open-air space.  This year's entertainment will feature pop up acts throughout the Garden. Live@theTrail will showcase a wide range of artists and musical styles.
MEDIA ENQUIRIES:
Joanne Hayes, Tumbleweed Communications – tigerjo@iafrica.com or 083 627 7249
ABOUT The Durban Botanic Gardens Trail of Lights 2020
The Trail of Lights takes place from 11- 30 December 2020, excluding Christmas Day. Visitors can look forward to nightly entertainment, kids holiday activities, charity activations, new displays, two food gardens and a Festive Market, offering an eye-watering selection of local and authentic gifting and décor.
Tickets are available from www.webtickets.co.za or Pick 'n Pay at:
18:00 Entry R80 per person
19:00 Entry R70 per person
20:00 Entry R60 per person
Tickets are extremely limited and NO tickets will be available at the door. Children two years and under enter for free.
ABOUT The Durban Botanic Gardens Trust
The Durban Botanic Gardens Trust is an independent and discretionary Trust, established in 1993 to support is Durban Botanic Gardens with various maintenance and development projects including projects with a focus on the following core areas: education, biodiversity, heritage, horticulture, research and people, plants and culture.
The Trust, through its various fundraising initiatives, sponsorships and donations from both public and corporate benefactors, is able to invest in the future of the Durban Botanic Gardens to ensure that the Gardens remains a garden of excellence and a garden for all and maintains its relevance and presence within the horticultural world at both international and regional level.
The Gardens special presence within the City is also critically important to ensuring a balance within the urban environment. Whilst it is a major tourist attraction, it is also a place of peace and tranquility for all the citizens of Durban. As an independent body from the City municipality, the Trust ensures that the qualitative elements of the development and maintenance of the Gardens can be supplemented, thereby ensuring that the Gardens continues to be recognised as an educational, scientific and culturally relevant institution.
Please click here for more information.